Concert informatie
Dinsdagavondconcerten
Aanvang 20.00 uur. Duur 1 uur. Toegangsprijs € 10,00.

Kinderen tot 15 jaar gratis. Geen ticket nodig.
De kerk is open vanaf 19.45 uur. De ingang is de grote poort onder de toren.
Zaterdagmiddagconcerten
Aanvang 16.00 uur. Duur ½ uur. Toegang gratis.
Word donateur
U kunt donateur worden met een bijdrage van minimaal € 50,00 op
banknummer NL93 INGB 0009444400
t.n.v. Stichting Orgelkring "Hendrik Niehoff"
o.v.v. Donateur.
U hebt dan gratis toegang tot alle concerten!

Donateurs steunen het werk van de Stichting Orgelkring "Hendrik Niehoff".
Hartelijk dank!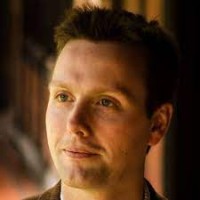 Richard Pinel
Jesus College, Cambridge (UK)
Richard Pinel took up the post of Director of Music at Jesus College, Cambridge in 2017. Prior to this he spent nearly eight years as Assistant Director of Music of St George's Chapel, Windsor Castle, during which time he gained international recognition as an organist. He also held similar posts at Magdalen College, Oxford and Perth Cathedral, Australia and the organ scholarship of St Albans Cathedral and Magdalen College, Oxford.
Beginning his musical life as a chorister at All Saints' Church, Northampton, Richard was awarded the prestigious organ scholarship to Magdalen College, Oxford in 2002. Whilst reading music there, Richard worked under the direction of the composer former King's Singer, Bill Ives. During this time, the Grammy-nominated college choir undertook several recording projects on the Harmonia Mundi USA label, on which Richard's playing was hailed as 'a force of nature'.
More recently, Richard has undertaken further study with Henry Fairs as a Junior Fellow at Birmingham Conservatoire. Since then he has enjoyed competition success on an international level, culminating in winning the First Prize, Ad Wammes Prize and Haji Hakim Prize at the Breda International Organ Competition in The Netherlands.
As a teacher, Richard has led masterclasses for the Royal College of Organists and tutored on courses for Oundle for Organists. Richard's first CD L'Orgue Symphonique, released on Resonus Classics, has been praised for its 'electrifying impact' and 'truly tremendous verve'. Recital engagements have taken him across the UK, to Europe and the United States of America and he has broadcast, as both organist and pianist, on BBC Radio 3, BBC Radio 4, Classic FM and Radio France Culture.